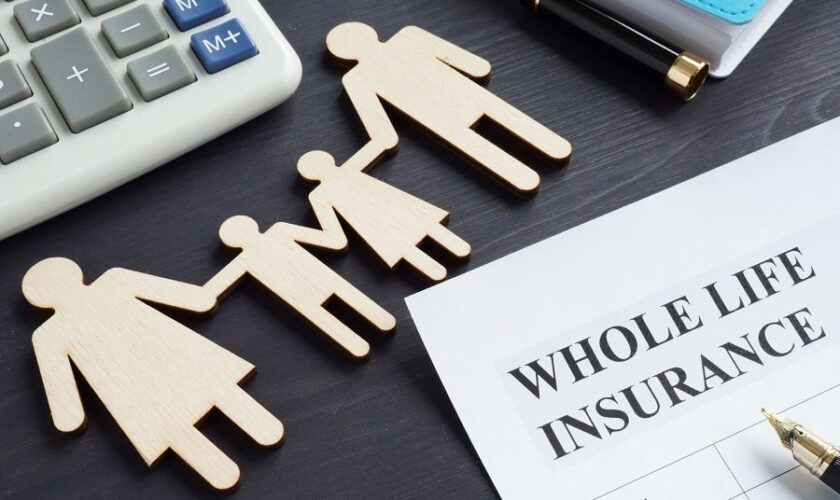 Whole Life Insurance: What Is It & How Does It Work?
Though it's an uneasy subject, in reality, we're all going to die at some point or another. But, should the worst happen, how can you ensure that your family are provided for in this difficult time? Whole life insurance is a great way to protect your family when you're no longer around, but what is it and how does it work?
In this article, we'll take a look at:
What is whole life insurance?
Types of whole life insurance
Whole life insurance or term Life Insurance
Cost of whole life insurance
When should you buy whole life insurance?
 What Is Whole Life Insurance?
Whole life insurance (otherwise known as 'life assurance') is a type of life insurance policy that guarantees a pay-out in the event of your death. This policy covers you for the whole of your life, paying out a lump sum to your dependents – just as long as you keep making premium payments.
It works differently from the other main type of life insurance – term life insurance, which only pays out if you die with a certain period of time (i.e. 25 years).
Typically, whole life insurance is usually more expensive than other types of life cover, however, you have the reassurance of a guaranteed pay-out.
Types of Whole Life Insurance
With whole life insurance, there are 2 main forms of plans – Unit-linked or investment link policies and come in two forms:
With balanced cover (also known as standard cover), the cost of your premiums remains the same throughout the policy. When you eventually die, your insurer will pay out an agreed-upon fixed cash amount to your family. This type of policy is usually the most costly for whole of life insurance.
Maximum cover works a little differently from balanced cover. Your policy is linked to an investment fund, which your insurer pays into using your monthly premium payments. The aim is for the investment to generate a return that will cover your policy pay-out.
However, depending on the performance of the investment, your insurer may increase your premiums or reduce the pay-out amount. Regardless of which policy you choose, be sure to read the small print so you are fully aware of what you are covered for.
Whole Life Insurance or Term Life Insurance?
Whole & term life insurance are the two main types of standard life insurance policies, however, they both work differently from each other. As mentioned before, term life insurance covers you for an agreed amount of years. In order to trigger a policy pay-out, you will need to die within the policy term.
Though surviving the policy term should be considered a good thing, there are a few drawbacks. The main downside is that if you outlive the policy term, you will no longer be covered, nor can you get a refund for the premiums already paid.
Whole life insurance is the more expensive option, however, you have permanent cover. With term life, if you survive the policy term you may need to take out further coverage, and so could cost you more.
Another difference between the two is that whole life insurance has a fixed premium cost, whereas, with term life insurance, premiums can increase over time. That being said, the initial premium for term life insurance is generally much cheaper.
Choosing between term & whole life insurance depends on your circumstance and what you need cover for. If you are looking to provide your family with financial support for the future, then whole life insurance may be the best option.
If you are looking to cover a mortgage and other debts and loans, then term life insurance will likely be your best option.
Cost of Whole Life Insurance
As we mentioned previously, the cost of your premiums will remain the same, however, there are a few factors that go into determining these costs. Before taking out a life insurance policy, your insurer is likely to ask you some health and lifestyle questions such as:
Your age
Height & weight
Occupation
If you are a smoker
How often do you exercise and drink alcohol
These questions aim to assess the likelihood of a claim being made. For instance, if you are 45, overweight and smoke, you have a greater risk of dying than that of a 25-year-old who is considered healthy and a non-smoker.
When Should You Buy Life Insurance?
The older you become, the higher life insurance will cost you. With that in mind, it's best to take out cover while you are young, not just to save money, but for protection.
Once again, it all comes down to your circumstances, like if you are single, do you need to take out life insurance? Not really. However, you could still get cover for your immediate family, which could also be used for your own family, later down the line.
The reality is that even as you get older, there are still plenty of options for cover such as guaranteed life insurance or over 50's life insurance. Though these options may cost you more, they guarantee acceptance regardless of your health, so it's worth keeping that in mind.
Join our friendly community of like-minded folks and stay up to date with the latest news and useful facts from the world of business and finance shared on my website.
You might also like